Motherhood and pregnancy is the most wonderful experience for a mother. And getting to experience that beautiful pregnancy in regular clothes can be quite challenging and uncomfortable. This is why brands have designed special clothing for women who are yet to be mothers. One of them includes maternity skirts!
A maternity skirt does not squeeze at the waist like the regular skirts do and to-be mothers can be at ease wearing them.
Black Pencil Maternity Skirts
There are women who love to be at their workplaces even when they are pregnant. And working while pregnant does not sound that comfy and cozy. To enjoy pregnancy during work time, maternity black pencil skirts came to the rescue. They are beautifully shaped at the belly providing enough room for the growing baby inside. These skirts also look like regular pencil skirts past the belly. These are comfortable enough for yet-to-be mothers who would like to work during pregnancy!
Olive Green Maxi Maternity Skirts
Maxi skirts are extremely popular. They were seen everywhere at some point. They still are in the market. An olive green maternity maxi skirt would make any woman who is pregnant look stunning at dinners or on evening dates! Like pencil skirts, these skirts do provide space and do not squish the belly resulting in pain and cramps.
Most of these come with an elastic band at the waist. However, it is necessary to prevent getting any marks from the band on the precious bellies!
Button Down Plaid Maternity Skirts
For the mothers who would like to keep their fashion game on point whilst pregnant, here is the solution for the endless pacing of confusion! A plaid button-down skirt. It is fashionable any time of the day. Indeed, it can be worn during holidays, on resorts, on mini trips, to the movies, on a hot sunny day, and whatnot! It can be paired with a loose white crisp shirt or a shirt with puff sleeves. It is up to the individual about the style of dressing.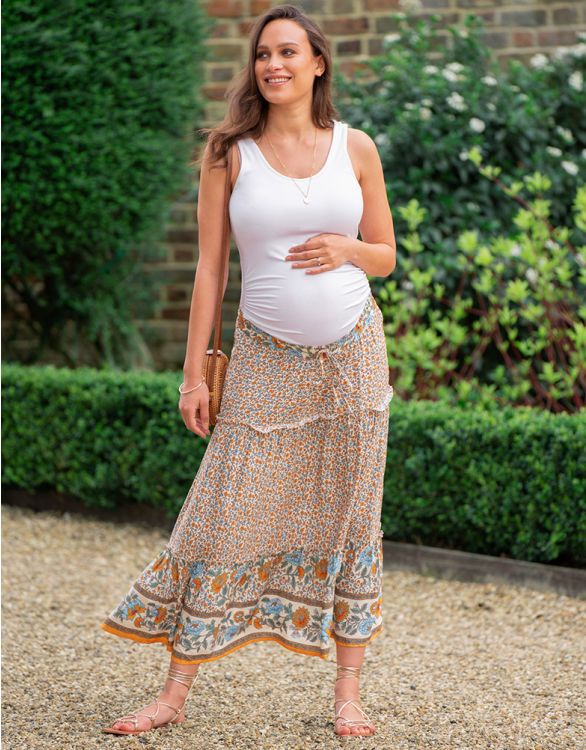 Avoid wearing heels during such occasions. It might be one ride of a rollercoaster to walk on those heels during pregnancy. Besides, it would wear anyone down and is not good for ankles as there is some extra weight on the belly.
Wrap Around Skirt
Wrap-around skirts are always fun. These skirts can be used as maternity skirts. The reason is here; they do not press into the skin at the waist like the usual skirts and instead, it is easy to control the amount of tightness that goes near the waist with the tie on! They can be effortlessly worn at the beach or on a rainy day!
Midi Floral Skirt
Floral prints indicate femininity. There is no other beautiful sight than a mother in flowers. Midi maternity floral skirts are extremely cute and are an ideal choice for spring and summer. They are not just beautiful but also look elegant upon everyone!
Also, Read About- Tea Party Attire: Ideas, Looks, Creative, Images