Khaki Skirts: Introduction
Khaki skirts are popular clothing worn by the army or military as a uniform. It was chosen because of the ability to get mixed up within the desert terrains. Indeed, it was mostly worn by civilians as the color was quite sophisticated. It all started in the 1800s and khaki was spread all over the world after its discovery by the British Indian army. Post-World War ii, khaki-colored chino cotton twill trousers sent to the military were the first to gain popularity. These uniform-appropriate pants were typically khaki in color. Today, the phrase is occasionally used to describe the type of pants based on these, which are officially known as chinos, regardless of hue.
Khaki Skirts is not only made into trousers but also in women's wear such as skirts. These skirts were popularly worn by women in the 1960s. Khaki is also available in not just one standard color. However, tones of khaki emerged into the fashion world later on starting from light tan to dark tan.
Let us look at some of the khaki skirts and their styling.
Button Down Khaki Skirts
A formal look with a khaki fabric is sometimes tough to achieve. But it is quite easy to dress in khaki while showcasing formal wear. Pair a midi khaki button-down skirt with a black turtleneck blouse. Make sure the waistband is proper and fitting to your body measurements to look clean and elegant. A perfectly fitted dress can do wonders if styled in the right way. A full sleeve turtleneck blouse might be a good choice for office wear. Add on a tan handbag and some tan sandals preferably of ankle strap ones. A few necklaces of gold can also be worn to elevate the look.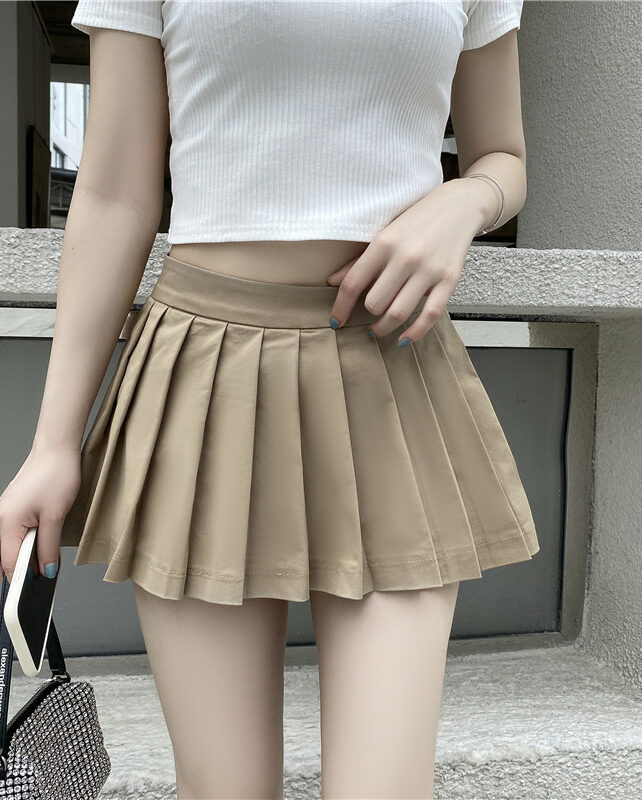 Low Rise Mini Khaki Skirts
Mini skirts indeed make any young woman appear much cuter. For a casual day outfit, wear a low-rise mini khaki skirt with a white tank crop top. On top of it, add a pink cardigan with elbow-length sleeves. Do not forget to wear a black belt on the skirt to appear more put together. The black in the belt balances out the khaki and the brighter colors on top. Also, wear some stockings that match the color of your belt. This outfit is suitable for casual dates or an outing with friends. This is extremely girly and feminine as it has a little touch of softness in the outfit with the baby pink cardigan.
Midi Or Knee Length Khaki Skirt
Wear a knee-length or a midi Khaki skirt with a sky-blue striped shirt on a white background. Do not put the ends of the shirt outside the skirt. This can make you look lazy. Since the outfit is pretty simple and monochromatic, it does not hurt to add a bit of color to the outfit. Wear a colored hat and some beige or tan colored ankle-length boots to complete the outfit.
Also, Read About– Create Your Dream Pillow with Custom Body Pillow Designs